One of the few seminar programs that maintain
results-based research.

Since these concepts might be new to you, you can read the extensive validation studies we have conducted on the following programs:

Switched-On Selling


Switched-On Management


Switched-On Network Marketing


Switched-On Selling For Banks


Brain Gym Research

Industry Specific Studies

Research White Paper
on Muscle Testing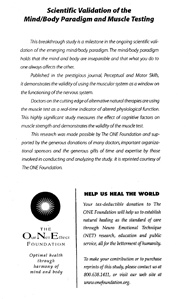 ---
BECOME AN INSTRUCTOR
You can also become a Certified Instructor of the Switched-On Seminars.
For more details and to learn about up-coming instructor training classes see:


Switched-On Instructor
---
To explore bringing
Dr. Teplitz to your
organization, complete
the on-line Request Form
or contact:

Sandra Lee
Director of Marketing
(800) 777-3529
(757) 496-8008
sandy@teplitz.com
Brain Gym® is a registered trademark of Brain Gym® International / Educational Kinesiology Foundation

Sandler Training Institute
"This should be a required seminar before anyone takes traditional training. You have found the missing piece!".
Andrew S. Miller - Founding Partner
Sandler Sales & Training Institute
Alexandria, VA, USA
http://www.thinktraining.com
---
Switched-On Seminars - Your Next Level of Success


Sales

Management

Network Marketing

Golf

Start-Up Entrepreneur

Advanced Entrepreneur
Clare Dreyer, Assistant Director for Management & Leadership Programs"

University of Reno, NV invited Dr. Teplitz to conduct two Switched-On Seminars:
These seminars focus on re-wiring the circuitry of your brain to create new levels of success. They are the "step before" traditional training that has been touted as "the missing piece".
The technology uses simple movement exercises called Brain Gyms®. These exercises stop your brain from being triggered by unpleasant past experiences, which then allows you to easily adapt to new opportunities and changes.
All seminars are dynamic, hands-on training experiences specifically targeted to integrate the left and right hemispheres of your brain into unified communication.
When the brain is "switched-on", you achieve new levels of energy and peak performance while feeling a new sense of emotional well-being.

DETAILED DESCRIPTIONS AND UPCOMING SEMINARS
Click on buttons below:


Bill Brooks, CEO of the multi-million dollar sales training company, The Brooks Group, says that he would: "very strongly recommend the Switched-On Selling Seminar".



Vada Whitt, Director of Facility Development at Global Contact Services, "recommends this
seminar to any company
interested in improving their manager's skills through participation and exposure
to unique concepts. "



"With Switched-On Golf you simply perform better without interference at a conscious level", says Chuck Hogan, World Famous Master Golf Instructor. "This is a very elegant route to improve play and I recommend the process".

The Switched-On experience had
the greatest impact in the shortest period of time of any program I have seen in many years in sales management!" says Robert Donovan, Director of Life Sales.
Switched-On Instructors Around the World - to find out if there's one near you, for one-on-one coaching or to attend a seminar, click here.