"The process is simple and amazingly effective with proven instant results!"

- Patricia Scott - Guelph, Ontario

Are there aspects of being a manager that you don't like to do? that you avoid doing? that you don't do well? that after you've done it, you've confirmed that it's not one of your strengths?
If any of this rings a bell, then the Switched-On Management may be the perfect seminar for you!
So let me explain what Switched-On Management is and how it will immediately improve your management abilities?
The Switched-On Management™ Seminar is a development program for individuals who are responsible for managing others in order to create a more effective and dynamic organization. The seminar provides a method for personal re-engineering which enables managers to adapt quickly and successfully to the changing work environment.
The personal technology we use to accomplish this goal is called Educational Kinesiology, which is the process of using specific movement exercises called Brain Gyms to access a manager's untapped capabilities. This actually allows the tasks involved with being a manager that were difficult to become easy in minutes.
What is the impact of the Switched-On Management Seminar?
Watch what Kevin Kordek, President - A-Active Termite and Pest Control says about the impact of the Switched-On
Management seminar on his management team:

Kevin Kordek - President A-Active Termite and Pest Control
THE SWITCHED-ON™ MANAGEMENT SEMINAR will strengthen the skills you already have and give you the mental agility to add to your skills with surprising ease and confidence.

Upcoming Switched-On Management™ Seminar Dates:
Call 1-800-777-3529 and ask for Sandy to schedule a Switched-On Management Seminar for your company or organization.
---


SEMINARS
INSTRUCTOR CERTIFICATION TRAINING

Below is a graphic of the different aspects of the Management Process that are covered in the Switched-On Management Seminar.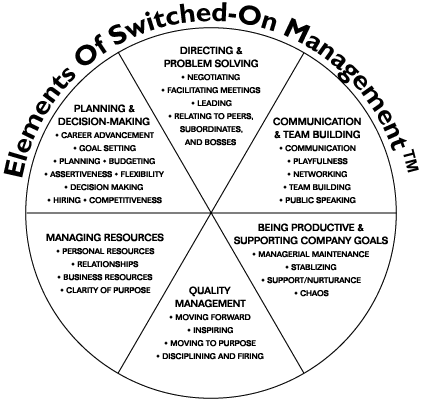 More specific information on the Elements of the
Switched-On Management™ Seminar:
What does a Switched-On Manager look like? What does the manager do? How do they handle themselves?
These are the aspects covered in the Seminar:

MANAGING RESOURCES

PLANNING & DECISION-MAKING

In this mode, the manager defines, discovers, and establishes the boundaries that will best support the fulfillment of the corporate mission and objectives. This is primarily a reflective role. Having established a clear sense of purpose, the "switched-on" manager can then provide assurance, direction, and motivation to her staff and herself.

This section deals with the classical managerial functions of planning, organizing, and decision-making.

To increase the reliability of the decision-making process, the manager must be capable of creating strategies and road maps that assist in recognizing, organizing, and clarifying the alternative choices.

DIRECTING & PROBLEM SOLVING

COMMUNICATION & TEAM BUILDING

Good managers have a highly trained team of networkers on whom they can rely for astute observations and problem-solving contributions.

The "switched-on" manager is an excellent negotiator and facilitator. These functions are supported by his ability to relate with people authentically and naturally.

As an effective team builder, the "switched-on" manager functions naturally in a cooperative environment and possesses the personal skills to be an objective participant in team sessions.

BEING PRODUCTIVE AND
SUPPORTING COMPANY GOALS

The manager's function here is to stabilize, support, and nurture the workforce so that workers feel centered and focused on generating the required throughput.

The "switched-on" manager in performance of this role is interested in ensuring that all of his subordinates and/or team members are all moving toward the goal.

In this mode, corporate ethics and values are upheld as the company moves through the life-sustaining process of transforming its goods and services into profits. The "switched-on" manager has an inner balance and strength that reflects outwardly, thus providing inspiration to others. The key to this ability is found in sustaining all relationships while aligning with the manager's core values.

ABOUT YOUR INSTRUCTOR...

Dr. Jerry V. Teplitz is a graduate of Northwestern University School of Law, a former attorney for the Illinois Environmental Protection Agency. He also holds a doctorate degree in Wholistic Health Sciences. Dr. Teplitz has been president of his own consulting firm fsince 1974 and is an accomplished professional speaker, having spoken to over one million people.

The Switched-On ManagementTM Seminar was created by Dr. Jerry V. Teplitz in conjunction with Edward Wondoloski, C.P.A. and a professor of business at Bentley College.


Here's what people are saying about the
Switched-On Management Seminar:

ACHIEVING MORE WITH LESS STRESS

"As a result of the Switched-On Mangement™ Seminar, I am able to accomplish more in less time... I've stopped feeling stressed-out by too much to do in too little time. Almost daily, I apply the quick stress techniques I have learned. I've also gained insights into how I relate to those I manage and how the people I manage affect how I feel and behave."

- Kay W. Hurley, Director of Membership Services
Tidewater Builders Association

"My biggest "ah-ha!" from the course was learning how quickly I can "turn on" my brain to allow me to move through an obstacle or blockage. I've really regained control of my total day."

- Mark A. Carlson, President, Minnesota Mailing Solutions
Golden Valley, MN

MANAGE MY BUSINESS EFFICIENTLY...

"I gained the confidence that I can not only manage my business efficiently and more effectively but also my life."

- Dr. N. Rashida
Hyderabad, AP, India


RECEIVED CLARITY AND KNOWLEDGE

"The seminar was excellent. I received clarity and knowledge about the process."

- Debora Morrison - Stratford, Ontario

ANYONE CAN USE THIS SYSTEM!

"This is an organized, user-friendly system. It's excellent!"

- Katherine Marshall - Dallas, Texas
"I was quite surprised by how easy it was to determine the areas of weakness and to make the change. The course was very comprehensive and easy to follow."

- Sharon Ruder - Prescott Valley, AZ


For more information, please contact us:
info@teplitz.com

or call 1-800-77-RELAX (1-800-777-3529)