Switched-On Selling:
Balance Your Brain for Sales Success 200 pgs.
Price: $19.95
(Discount Offers will be applied in checkout)

$19.95
$14.95 (PDF e-Book)
INSTANT DELIVERY
$9.99 Amazon Kindle
INSTANT DELIVERY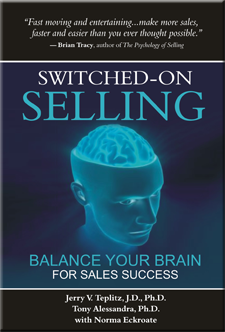 Open Table of Contents

Exciting Reviews

---
"Teplitz and Alessandra show us how anyone can be a top salesperson by using their proven methods in Switched-On Selling. With the revolutionary Brain Gym® approach to rewiring neural pathways, old limitations evaporate, and a new path toward success becomes immediately available to catapult you to superstar status."
Jack Canfield, author of The Chicken Soup book series
---
"Before we got 'Switched-On,' we thought that the 80-20 rule—80% of sales are made by 20% of the sales force—was going to plague us forever. But immediately following the Switched-On Selling training, we found that all of our salespeople were achieving higher closing rates and greater profitability per sale than before. The SOS training is the only variable that changed in our sales team's training and the results are incredible! Our average salespersons' income increased by 19%. We achieved our aggressive sales goals and have been nationally recognized for attaining one of the greatest percentage of increases for two of the product lines we carry. Everyone's earnings are up and so is morale!
Kevin Kordek, President & CEO, A-Active Termite & Pest Control
---
"I highly recommend the revolutionary book Switched-On Selling by Jerry V. Teplitz and Tony Alessandra. As a salesperson and the author of sales books, I am most impressed with the Brain Gym® approach to rewiring the brain's neural pathways to achieve greater levels of success, confidence, and clarity than ever before. Old limitations in your sales presentation will evaporate and you will feel a renewed sense of excitement and joy. The book is an easy read and will give any salesperson new tools for being of service in the sales field."
Lee Milteer, author of Spiritual Power Tools for Successful Selling and Success Is an Inside Job

"This fast moving, entertaining book shows you how to perform at your best and make more sales, faster and easier, than you ever thought possible."
Brian Tracy, Author of The Psychology of Selling

Switched-On Selling:
Balance your Brain for Sales Success
By Dr. Jerry V. Teplitz and Tony Alessandra, Ph.D. with Norma Eckroate

Is your brain stuck in the OFF position? Are you switched-off for any part of the sales process—from making cold calls to answering questions, to asking for the order, to handling rejection?

Switched-On Selling is a proven, leading-edge, mind-body technology that will immediately re-wire the default settings for all parts of the sales process to balance your brain for optimum success. And it starts working as soon as you finish each chapter!

For the first time in book form, Dr. Jerry V. Teplitz presents his revolutionary seminar that has been hailed as a breakthrough experience by thousands. In Switched-On Selling you will learn the easy-to-do, powerful Brain Gym® system, which no other book or sales training incorporates.

Brain optimization expert Jerry V. Teplitz, JD, PhD and top sales guru Tony Alessandra, PhD are Fortune 500 educators and powerhouse sales training pioneers. In this book, Tony Alessandra shares his street-smart sales strategies as Dr. Teplitz interjects specific Brain Gym processes to balance your brain for each step of the selling process. This book will dramatically increase your sales and your bottom line numbers.

The only way this book doesn't work for you is if you don't read it!
---
Switched-On Selling:
Balance Your Brain for Sales Success 200 pgs
. Price: $19.95
---
More Praise for Switched-On Selling
"No other sales book I've seen gets to the core of what drives real results more powerfully than this one. The concept of Switched-On Selling is brilliantly cutting-edge; Teplitz and Alessandra have combined proven scientific research with their years of experience in sales mastery to produce a book that is in a league of its own."
Ivan Misner, NY Times Bestselling author and Founder of BNI and Referral Institute

"Of all the Superstar authors—Tony Robbins, Jack Canfield, Mark Hansen, John Gray, Lisa Nichols, and so many others—that I have coached and assisted along their journey, Dr. Jerry Teplitz is my favorite for deep content. His immediate 'stick to the ribs,' CEO-level put-it-in-the-workplace processes can change your bottom line results in a single read. On sales and marketing, Dr. Teplitz is the leading master trainer in the world today. That's why we literally BEG Jerry to teach at our trade shows for the world's elite business leaders five times a year. Put every other read on hold until you master Switched-On Selling; then watch the impact this powerful training will have on your profit account next quarter."
B.J. Dohrmann, Founder of www.ceospace.net, bestselling author, and radio show host

"Alessandra and Teplitz have a winner with their new book, Switched-On Selling. Their concept of how to 'rewire' your thinking with new premises, let go of old baggage, and program yourself for more and bigger sales will catapult you to a new level! Don't miss the opportunity to "hard-wire" yourself with these new ideas. Get this book today."
Don Hutson, Speaker, Co-author of the New York Times #1 Best-Seller, The One Minute Entrepreneur, and CEO of U. S. Learning