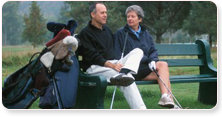 to take strokes off your game effortlessly.

With the revolutionary approach to improving your play which has been endorsed as "better than a dozen trips to driving range", and applauded by Professional Golfers as showing you "the road map to the Zone" - you will not only be knocking off strokes, you'll be impressing your friends.

PAR AND BEYOND is the half-day seminar based on the work of Dr. Jerry V. Teplitz, and is a method which enhances your learning and performance process. It is guaranteed to help you play your ultimate best by allowing you to implement what you will be taught from an energy standpoint.
An increase in your energy level, your focus, and your ability to put yourself in the zone and stay there, will be just some of the outcomes you can expect to happen immediately after you have finished taking this seminar. Read more about the process here, Road-Map to the Zone.

Par and Beyond will not conflict with the golf lessons you have been taking. It will actually support what you have learned in the past and bring you to a new level of experience, success and enjoyment of the game. That's what makes it revolutionary - it works with any training. It's not about golf mechanics, it's about golf energetics!
Seminars Can Include

NEW! Hole in One Contest pays $1 MILLION DOLLARS: We are looking forward to a "winner", a more powerful statement on the value of this program than all the terrific written testimonies combined. Thats right, one person at the conclusion of each Seminar will be chosen at random, and given the opportunity to sink a hole
in one for $1,000,000!




Seminar on DVD Receive the Par and Beyond DVD

Regular $85 value included for seminar participants.


Plus! Certificate for Carnivore Attack Wedge


*just pay shipping & handling
| | |
| --- | --- |
| | |
HAVE YOU EVER?

found yourself distracted and unable to concentrate on the golf course?

hit a shot into the rough and carried the vision of that shot to the next tee?

gotten angrier and angrier with yourself at each hole?

thrown or broken a club?

lost the fun and enjoyment of playing golf?

Wanted some PROVEN help to improve your game?

If you answered YES to any of these questions, then you have found The Perfect golf help solution for YOU!


Par and Beyond:
Secrets To Better Golf
is a practical and dynamic half-day seminar that gives you the tools and techniques that immediately put you in charge of your energy system.

It's completely different from any other training you've attended.
GUARANTEED TO HAPPEN ar and xpe:

You'll experience new levels of confidence with every swing

You'll immediately get back on track after a bad shot

You'll learn how to refocus before you take each shot

You'll eliminate your mental blocks and the accompanying negative thought patterns

You'll enjoy your game even more

You'll eliminate frustration in seconds

You'll improve your whole game and play better golf
AND YOU MIGHT WIN ONE MILLION DOLLARS
THIS PROGRAM

does not teach mechanics and technique, so

it doesn't conflict with what you have been taught by your Golf Pro!

THINK ABOUT

your swing for a moment. It requires complete coordination of your mind and body and needs you to have consistent self-control, right? Golfers at all levels admit that sometimes they just cannot maintain the energy level and necessary concentration to keep their focus on each swing of the club.

Because 90% of Golf is mental, most pros now have a "mental guru" on the payroll! You can attend the live Seminar and then push play on your DVD
for refresher!

This break-through system lets you take STROKES OFF YOUR GAME - effortlessly and consistently; by combining the powers of your mind and body - you function more effectively on the golf course.


"

Everybody talks about playing in the zone but how do you get there? With what I have experienced I feel this program begins to bridge the gap from talking about playing in the zone to actually showing you the road map to get there. I am excited about incorporating more of the principles in my own game and also in my teaching"
Jerry Reymond; Lead Instructor
Summit Golf Academy, FL

"My golf coach, Ed Hipp, had shared with me your Par & Beyond: Secrets to Better Golf. Not long after this presentation, I had an opportunity to play golf, and to remember and utilize some of the information you share. I was amazed to score my lowest score ever!! - a full 7 strokes off my previous best score!!"
Anne Moore; Chair
Golf Education and Player Development
Hampton Roads Chapter - EWGA

Read more about Golfer's Success Rates
At the conclusion of each Seminar, if you - for any reason - are not satisfied, you receive 100% of your money back in an unconditional
Satisfaction Guarantee.
No Questions Asked.

Read Complete Biography

...if you'd like to sponsor an APPRECIATION SEMINAR for a group or friends, or be informed when the next seminars will be offered in your area! Seminars are available to be presented at Association Conventions and Corporate Meetings, and can also be offered as a "Thank You" to your company's business associates or clients. For details, email Info@Teplitz.com or call Toll-Free: 800-777-3529, and ask for Sandra Lee; Director of Marketing.

Home | Dr. T's Biography | Video Demo | Programs-Keynotes-Seminars | Online U | Products | Contact us