Your Host: Dr. Jerry V. Teplitz
This Week's Expert: Dr. Duffy Spencer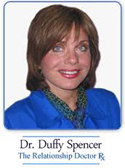 Do you have things in your life that get you down? Do you have relationship issues causing you stress? Join me and my guest Dr. Duffy Spencer as we explore the alternatives that you can use to get rid of this excess baggage that gets you down. Dr. Duffy Spencer is a social psychologist and is the host of her own radio talk show "Just Relationships." Dr. Duffy is the author of the book Spice: The Essential Ingredients For Effective Living. Join us, you'll be glad you did. Dr. Duffy Spencer's website is www.DrDrDuffy.com.
Enjoy the show!

Jerry